The story behind this one...
Back in 1970 when I was a schoolboy (and when owning a 'proper' motorcycle was sadly not an option) I dreamt of one day, building a radical 'chopper' pushbike. Meanwhile, I 'made do' by putting two headlights and an aftermarket 'banana' saddle on my Raleigh RSW Mk2 to make it stand out from the regular Raleigh Choppers of the day, but it was hardly a radical build.
Many years came and went, during which time I built or modified 'real' choppers of various types, such as the 1953 BSA A10 650cc bike that I had in 1975 (subsequently featured in a 'Bike' magazine retrospective of 'bad taste chops of the 70's!), or the BSA ZB32 350cc model that won a local bike show, and was also featured in the UK magazine 'Superbike' in July 1978.
However, that custom bicycle idea remained, ticking away inside my head, waiting for its time to come to fruition. Fast-forward another thirty years, another forty-odd motorcycle rebuilds, and incredibly, the idea was STILL there, refusing to fade away.....
Nowadays, alongside my latest ride (a 1340cc Harley-Davidson Low-Rider), I also have a production electric pushbike (a Wisper 905SE), albeit now subtly modified to make it more comfortable and efficient.

Gradually, the concept of combining the two began to emerge, especially as this 'bastard offspring' would be unfettered by costs and complicated restrictive bureaucratic 'red-tape', such as MoTs, Road-Tax, insurance, etc!
Browsing the internet, I discovered that there already was a flourishing international custom bicycle scene, so I felt this was the right time for my project to finally become reality. As I got acquainted with the models available as 'donor bikes', it seemed that the best choice would be a Schwinn Stingray, which in turn had been inspired by the 'Orange County Choppers' TV series.
Luckily, one of these bikes had just become available locally, via Ebay. I wasn't sure just how radical the final transformation was to be at this early stage, and although basically sound, this one looked tatty enough to justify cutting it up for parts if that proved necessary.
My modest bid was successful and I collected the bike from its young owner, feeling rather guilty telling him about my plans for his pride and joy. (However, he was now into BMX and once he had my cash, he didn't seem too bothered what I did to the bike...)
A quick ride around a deserted industrial estate seemed to justify the less-than-enthusiastic response that the 'factory-custom' bike had apparently received from the public, despite considerable sales. It may have looked cool, but it wasn't actually very nice to ride, especially for this 55-year old kid.
Surely I could come up with something better?
The design in my head called for a much wider angle on the rear frame rails, but I was wary of just cutting brutally into this area. However, I eventually found another Stingray on the internet that appeared to have been modified just as I proposed, so I contacted the owner, Niklas (of Aros Kustom), who lived in Sweden.
He was keen to discuss his project (in flawless English) and we have stayed in touch throughout my build; his enthusiasm was invaluable in persuading me to keep going - thanks for that!
I was also particularly inspired by a YouTube tutorial by Brad Graham ('Radical Brad') from the 'Atomic Zombie' website in Canada, so, after he made it look so easy, I set about attacking my own frame with a disc-cutter.
First cutting the 6mm steel of the actual dropout (only halfway through) with a hacksaw, I then heated the area with propane, MAPP gas and finally oxy-acetylene, which eventually got the remaining steel soft enough to bend by hand.
I guessed at opening the angle up from 30 degrees to about 45 (actually 43, so not bad!) and clamped a long bolt through the dropouts to help prevent distortion.
I then welded up the gaps with my arc-welder, and it all looked good and strong! As the old frame had been reduced to just the headstock tube and the bottom bracket, I now HAD to make the rest of the bike somehow.....
My primary inspiration was the 'Hannan Custom' style. I thought the Hannan model was by far the most attractive bicycle chopper I'd ever seen, even if the $10,000+ price tag seemed a bit steep!
I would be using 42in (1050mm) fork legs, with maybe 40-45 degrees of rake, and also planned to use a sprung saddle, as my back is well past its best and I wanted some degree of comfort!
Although I would still be able to pedal by putting the bottom bracket in mid-downtube, as the Hannan did, power would also come from a Bafang 8Fun 350w 36v motor.
I bought this as part of a kit offered on Ebay by AlienOcean. The company sells everything from complete e-bikes right down to individual components, but this particular kit seemed to best suit my requirements. I was particularly impressed by the way that the guys there (Jim and Roy) patiently answered my endless questions, as I ensured that what I was buying could actually be modified into something utterly different!
The kit came with the motor already laced into a standard 26in wheel, so I needed that bit re-lacing into my Stingray rim. Getting this wheel rebuilt proved to be a nightmare, as all my local bike shops said it simply couldn't be done.
Luckily I found Alan Raeburn of Just1Bike via the Pedelec e-bike forum on-line, and he not only made a marvelous job of proving the others wrong (and at a bargain price!) but also kept in contact by email throughout the build. He helped me overcome numerous other problems and his expertise in this e-bike field proved absolutely invaluable - many thanks to him too!
The battery included with the AlienOcean kit was a Lithium-Ion type and it would be fitted into a leather pannier slung over the rear wheel, rather than on the rack it came with. I already had a similar 36v propulsion system on my Wisper road-bike, but the battery for that was now getting old and starting to fail. I devised a way to use the more powerful new battery on both my bikes, which helped to make this new project much more cost effective.
The AlienOcean motor is 350w, 100w more than in my road bike and I could already pull away just using the twist-grip throttle on that earlier one. However this method uses much more current and drains the battery quicker, so it is better to pedal first, and then let the power kick in automatically after a couple of pedal strokes. It is claimed that one can do 20-30 miles like that (although I never have) but it is certainly a great feeling being wafted along so effortlessly!
AlienOcean advertise the motor for 'off-road use only' (as over 250w is technically illegal in the UK.....ahem!) so it should certainly be powerful enough for the chop, especially as I would be using a 20in wheel rather than the original 26in one. This would give it lower gearing, so less top speed, but better acceleration. Around 20mph (32kph) should be possible, according to my calculations.
(It is possible to get 'regenerative' systems that recharge going downhill, but this was not one of those; one simply re-charged the battery from the 240v house supply for a couple of hours, ideally overnight.)
The front wheel was a 144-spoke, 24in item that I ordered from the USA, together with the chrome fork stanchions, at great expense (especially with the added UK Customs duty). I had originally intended welding up my own stanchions, but then I found this pair ready-made, online from Bike Designer. Sadly all the chrome was very poor quality and the company's customer service was just as bad, so I wouldn't use them again.
There would be disc brakes front and back, although the rear one needed much 'trial and error' fabrication of brackets and spacers before working correctly. I also strengthened the bottom yoke as I had heard they could fail, especially with such long forks! The flimsy lock-stop bolts were also replaced with substantial M8 stainless allen bolts at the same time.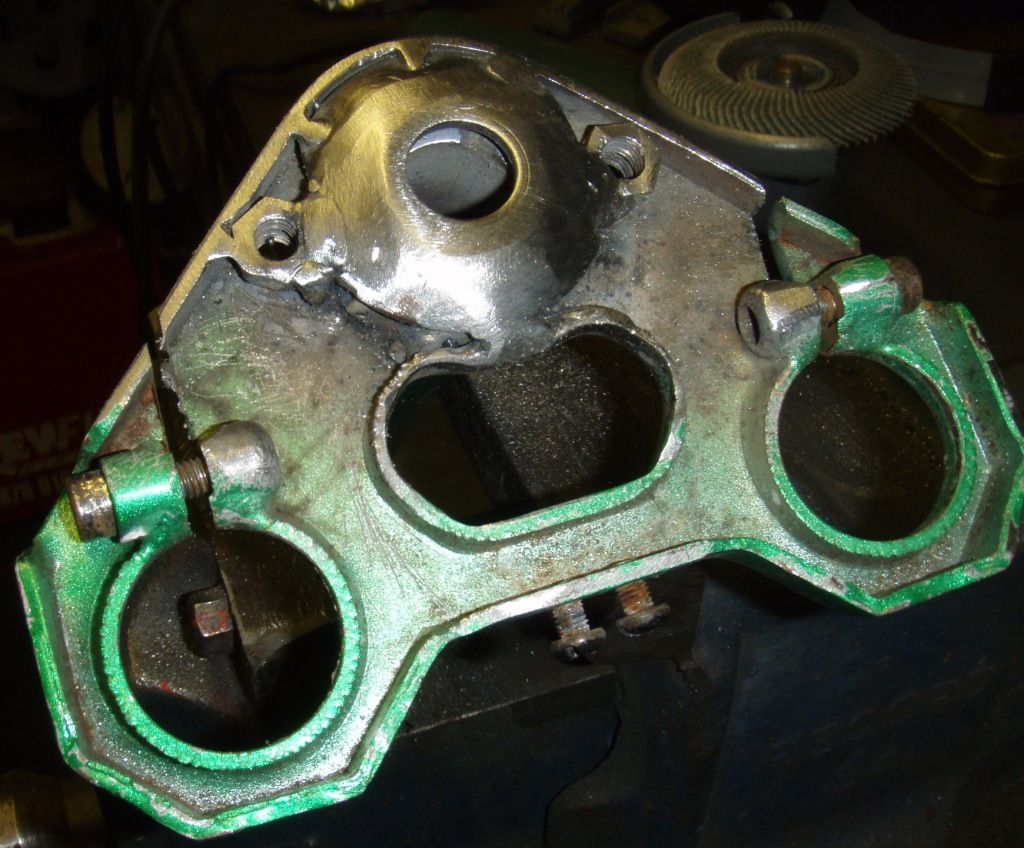 I designed the new frame using just a pencil and paper, with all the angles and measurements worked out 'by eye'. At the same time, I tried to teach myself CAD and, although I got a reasonable result, it was really just to better illustrate what I had already worked out the old-fashioned way.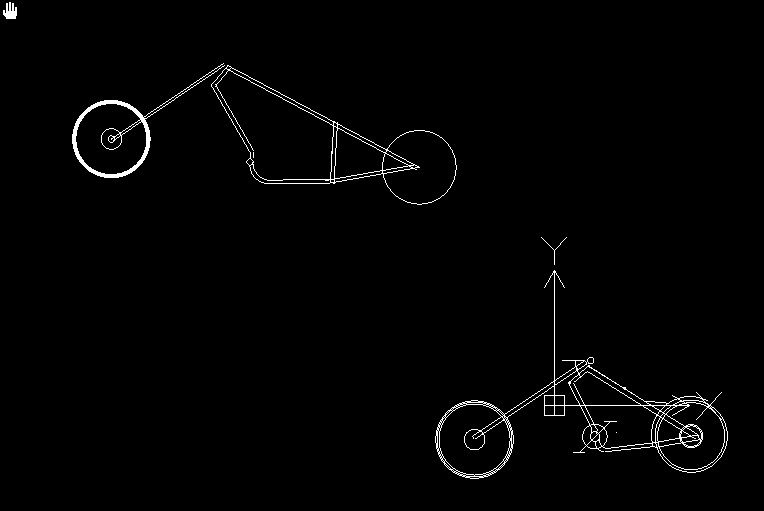 It was now time for the actual build to begin. I went to the helpful local tubing shop in Poole (Tubeform Technology), but I could only take the 1m straight top tube away with me, as understandably, they wanted a few days to bend the other parts to my measurements. (I had my own pipe bender, but it puts 'flats' in the bends, so I thought it was worth getting these two important pieces bent properly!) 
I had also bought a proper tube-notcher from Eastwoods, but decided to try the 'paper-mitre' method first, and it worked very well; once again, Brad's video tutorials on his Atomic Zombie site were a great help here, so the notcher went back onto eBay! Two slices with a cutting disc, then some careful filing by hand, and the top tube and head stock sat well together, at the precise 107 degrees I had chosen. Amazing!
Even my self-taught TIG-welding went OK too, although the results would probably need to be sanded a bit flatter yet. (Definitely better than arc or MIG though, and the frame was going to be powder-coated eventually anyway.) Shame I still had to wait for the other pieces of tube to be bent, but it meant lots of other little jobs got done, including a big tidy up of my workshop!
Earlier, I had replaced the twist-grip throttle with a thumb-action one, as I wanted to use some leather hand-grips I had also got from the USA. AlienOcean provided the alternative throttle, but retro-fitting it meant some very tiny re-soldering onto the PCB in the junction box.
Doing that prompted me to loosely connect everything else up to test it out...and it all worked! (It was a big relief to see the wheel going round, even if only like a fairground 'Ferris wheel', upright in the rear sub-frame!)
Testing everything also made me realise I needed to mount the electric junction box near the headstock (as the factory-sealed wires were quite short) so I welded a bracket to the bottom yoke that would also take the headlight. (Later, I cut this much shorter and simply fixed the box to the top yoke with cable ties; quite secure and much neater.)
The extended fork tubes that I got from the USA came without any fixings at the top (so one could cut them down if needed) so I recreated the original style with two 30mm washers welded on, with M6 nuts welded to the back of each. The TIG did a neat job and the smoky marks just wiped off, leaving the chrome almost OK.
The rear disc caliper was 'sort of' fitted, but I felt it could be better, so I found a big piece of scrap iron and slowly filed it to shape, including tapering the width to compensate for the tapering rear drop-outs.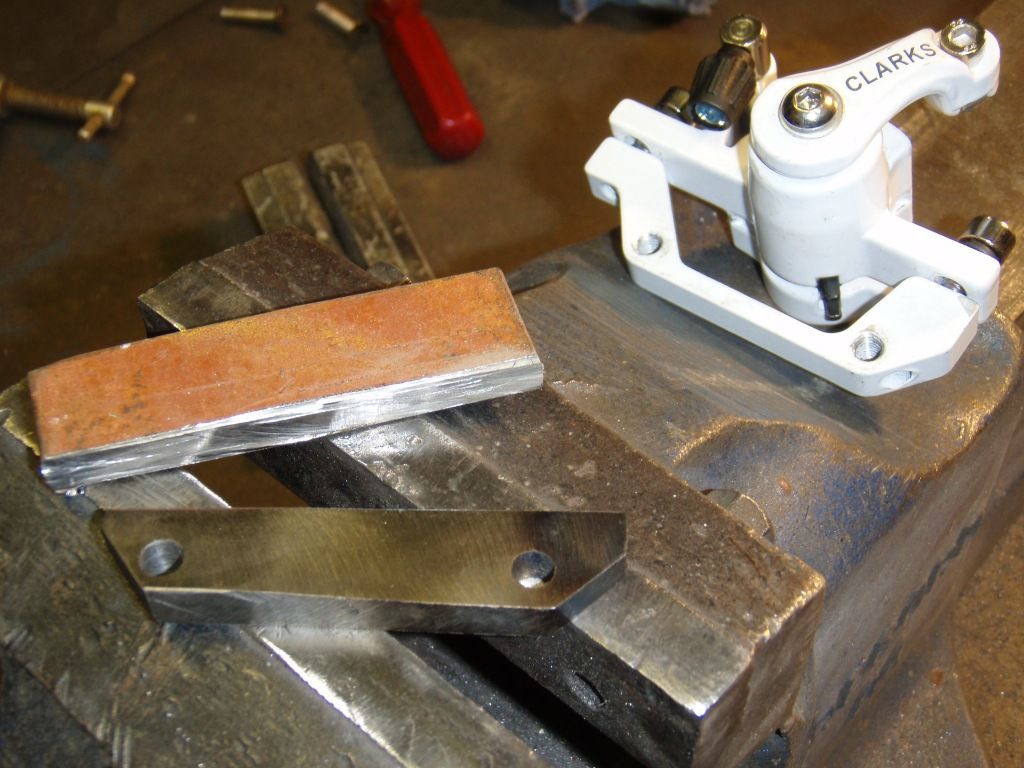 Where the new frame tubes had to meet the Stingray rear, I thought it should be stronger than just a simple butt-weld, so I cut out two 38mm circles (same diameter as the tubes) and welded them on first, including two spots inside each one for extra strength, as this is where the stress was probably going to be the greatest. Once the new tubes were welded on, I could tidy everything up, and I also put a spacer on for the base of the rear mudguard, but that proved to be galvanized, so it was not very nice (or advisable) to weld!
So, that was about it for now, until the new tubing arrived. I was a bit apprehensive, building the frame without a jig, but at least I realised it was important to keep everything straight and in line at this critical stage.
In the meantime, a friend helped me understand the CAD programme a bit better, so at least I could now work out lengths and angles etc. I used DraftSight as it was free and worked well on my Mac. My early drawings still weren't great, but hopefully I would get better with more practice.
Some time later, I collected the tubing; Tubeform had done it the week before, but they never phoned me...!
Still, they had also forgotten about the 1m straight piece they already given me, so I got the deal a bit cheaper! The bends were excellent and just what I had asked for, so I was very pleased and I would heartily recommend them as a company.
I used the paper-mitre method again for cutting the down tube, simply reversing it as the angle was (by chance!) the same as the top tube. With more practice, I was definitely getting better at cutting the waste out now, but Brad at AZ makes it look even easier on his tutorials! That day, I fitted the bottom bracket to the down tube, then that piece to the head stock, trying very hard to keep all the components aligned correctly.
I was very pleased with the result as it began to look like a bike at last. However I found the bottom bracket was about an inch too far over to one side, so I hoped I could bend it back into the right place! (The welds were getting better too, so they shouldn't break!) I would be SO happy when the bottom tube was finally in, especially as that would be difficult to cut and fit exactly into the remaining gap.
While I had been waiting for the tubing to be ready, I had got the 'pedelec' sensor sorted out. This detects movement on the chain wheel and automatically turns the motor on to assist the pedaling. Temporarily mounting it to the bottom bracket, it initially fouled the chain wheel, but after some modifications, it all seemed to work fine.
This was also an excuse to see the wheel going around again under power, which then confirmed that my newly-fabricated rear disc brake assembly was working OK too.
So, I was getting there at last, and felt more enthusiastic now that the bike was literally taking shape. I expect everyone here knows that feeling 'mid-build', when one is over the initial excitement, yet is still so far from finished. My garage/workshop is under the house (one big reason I bought this house) so it's quite a nice place to work; it even has carpet! I can't do the long hours that I used to when I was younger, but I try to get about four hours done every day - I know I'm lucky (with no distracting family commitments, etc) to be able to do that much!
Thankfully, the next day I got the misaligned frame straightened remarkably easily; using a vice on the bottom bracket and some gentle pressure on the rear of the long frame, it re-set without a struggle.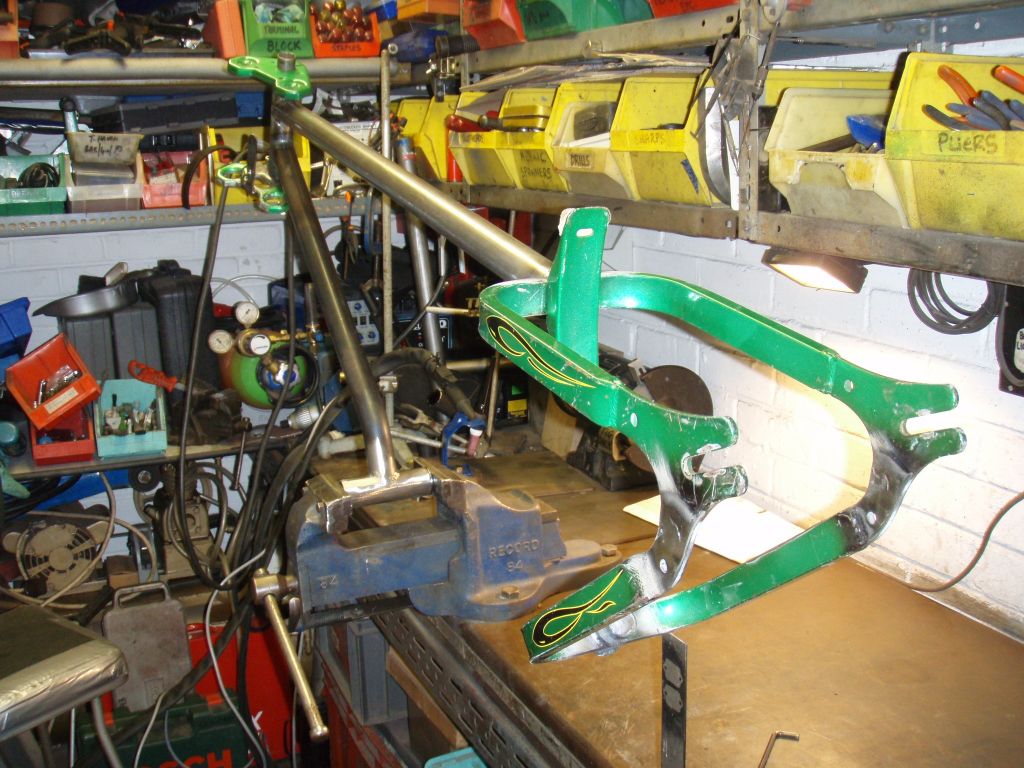 As I had no jig, I was using a long board with a straight line marked on it, to ensure everything was in line. A bit primitive maybe, but it worked well enough for me!
I was then able to measure, cut, shape and weld the remaining bottom frame tube in. I had been dreading doing all that, but it went in perfectly. (Those 'fish-mouth' joints were getting pretty good now too!)
I then welded in the smaller bracing tube, having bent it myself. Although it was OK, it made me realise how right I had been to get the larger tubes bent professionally!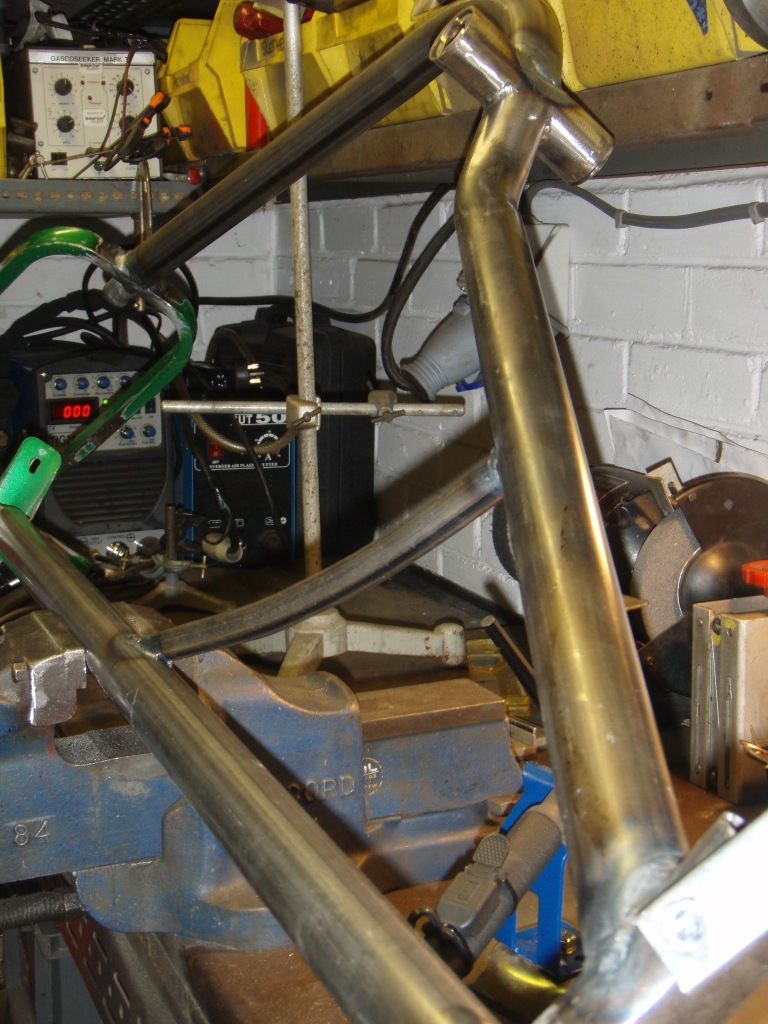 I was also able to weld on the chunky new lock-stop, after fabricating it from a thick plate of steel.
I chose to weld the steel rear mudguard on for additional strength and rigidity; it was actually so strong that I was then able to omit the seat down-tube, as it wasn't required any more!
Fitting the chain-wheel and cranks, I was also very pleased to find that they revolved true, although the chain line required a bit more taking out of the mudguard - but this was not a problem at such an early stage. After all, this was exactly what 'trial builds' were for!
I already had a nice sprung seat from the USA, but it took another day to get that ready to actually fit, using a cut-down seat stem and a short locating socket that I welded to the frame. Drilling the top tube would give me another 38mm of engagement and/or adjustment if required, but the riding position seemed to be surprisingly comfortable already.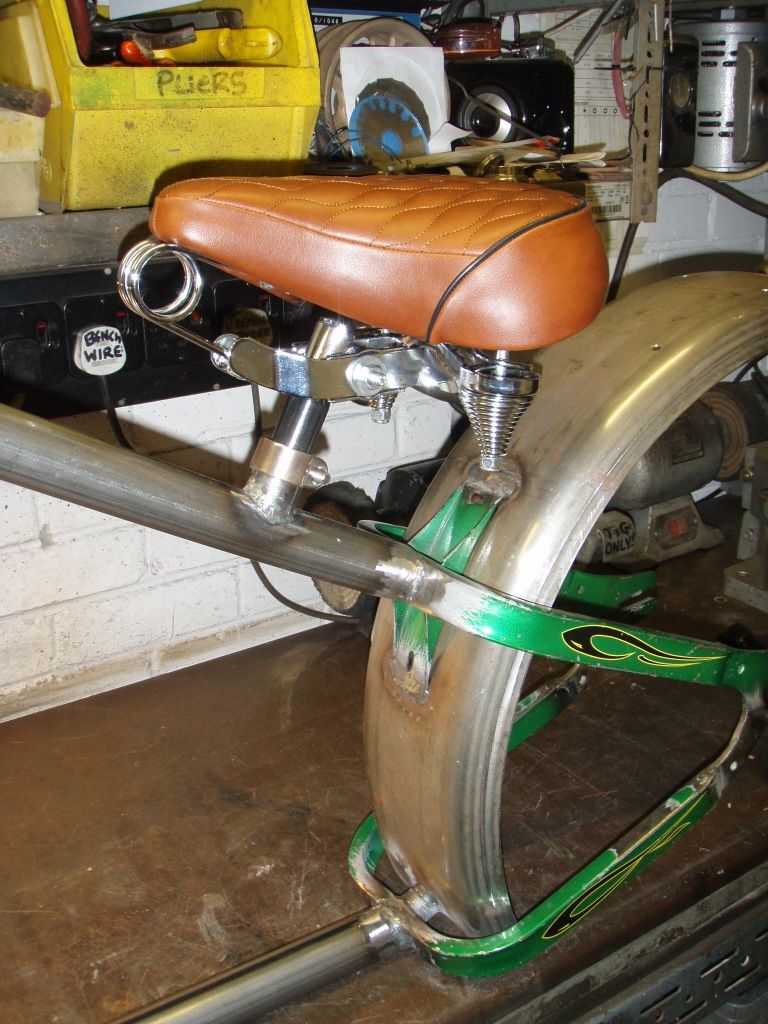 Although the seat and pedals were good, I now found I couldn't reach the flat handlebars I had previously intended to fit. However, after rummaging through my pile of old discarded motorcycle bars, the very last pair seemed to work OK, after trimming 45mm off each end. As they were higher than originally planned, the wiring junction box now had to be relocated to the top yoke (a better place for it anyway).
Amazingly, the main wire to the controller (one I really didn't want to have to alter) was still long enough to reach the battery in the pannier, despite my ridiculously long frame, so that was a good result.
At this point, I also picked up a brand-new Yamaha motorcycle side-stand off eBay for £5 (reduced from £75!) - clearly not worth making my own at that price.
Over the years, I had invested in a vast array of air files, flap wheels etc, so the next step was to get the frame welds all tidied up and the bike virtually sorted out over the traditionally quiet Xmas period.
However.....that evening, my girlfriend and I were offered the chance to stay on a private island in Poole Harbour for two weeks, acting as 'site security' for a £3M house being built, whilst the entire workforce had Xmas off. Having surveyed the island for the archaeological TV programme 'Time Team' back in 2003, I knew it very well (I can even see the island from my house!), but it was pure luck in knowing the right people that we were asked to do this job.
Obviously this new opportunity totally disrupted my bike-building plans, so they had to be put on hold until the New Year, although I would have plenty of time on the island to plan my next moves!
Thankfully there was no real rush to get the bike finished.
A month later, back in my garage, I was so glad that I got the bike frame almost completed before I had been forced to leave it, as it made it much easier to get back into the project again. The next jobs were to fit the panniers and side stand, then cut holes to run the cables and wiring through the frame, before tidying up all the welds.
I was not going to paint the frame, but intended to get it powder-coated. It cost quite a lot more, but it looked good and hopefully, much more professional! It did mean that everything had to be perfect though, as I couldn't cut or weld things on afterwards if they were wrong.
I was pleased with my bargain Yamaha side-stand but, not surprisingly, it wasn't quite right as it was. However, after I removed two parts I didn't need on it (since I wasn't using a return spring), then reshaped it (with my oxy-acetylene torch!), it was perfect.
I used a scrap piece of frame tubing to make a 'saddle' for the pivot part, as the latter was much thicker metal than the tubing; doubling the tube's thickness up would be plenty strong enough to absorb the stresses involved.
I also drilled out some big holes in the frame as I would be running all the wiring, brake cables etc through the frame for a neater look.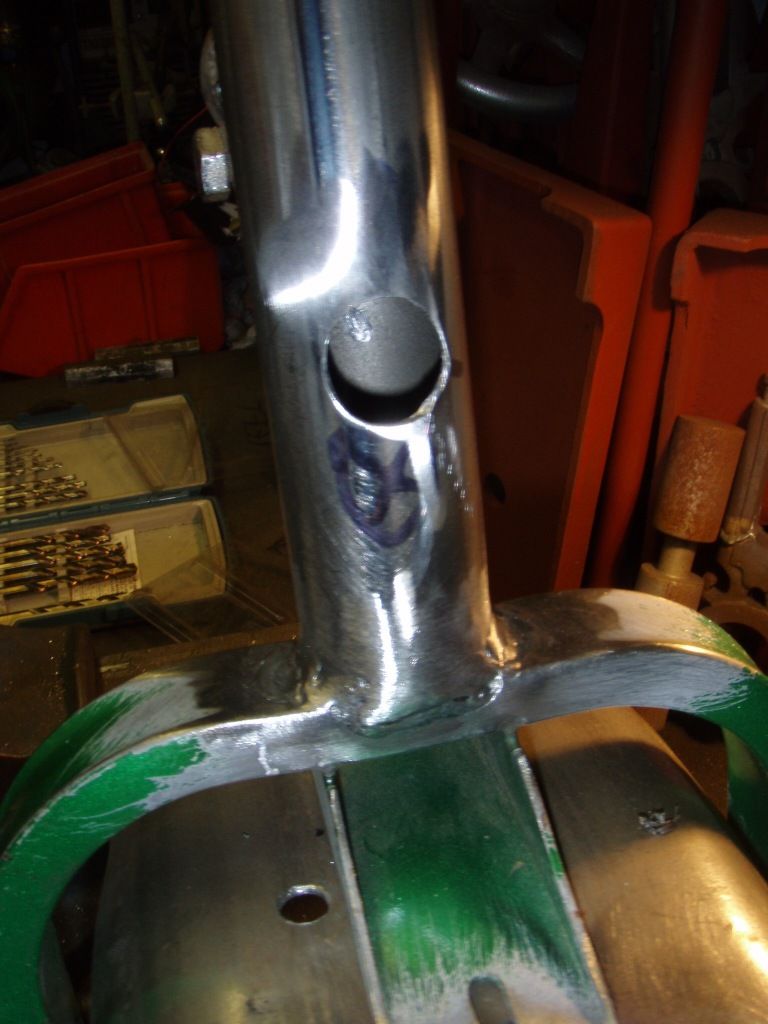 The final job was then to weld up some brackets to help support the panniers and keep them clear of the frame. They would then simply bolt on, using the holes already on the Stingray frame tubes near the rear dropouts.
After checking many times that I had not forgotten anything, I took all the bits to the powder-coaters (Emmdan Fabrication) in Poole. These are a great father-and-son team who had already coated two motorbike frames for me in the past. They were able to match the colour I had chosen, and only charged me £60, much less than I had expected. I looked forward to collecting the parts in only about a week's time - that would be an exciting day, and a giant step forward for the build!
That momentous day soon came and, as usual, the powder-coaters had done an excellent job and the colour was just as expected.
The decals had already been delivered ages ago, so it seemed a good idea to get them applied promptly, whilst everywhere was accessible, and before the frame got oily fingermarks all over it. 
I had chosen some 'Built - not Bought' designs that I had found on Ebay and they seemed most appropriate, together with some others showing my alternate email-address. This is 'ChristOnABike@mail.com', selected because, with my very long hair and beard, comparisons had already been made, and also because 'Christ on a bike!' was an expression of surprise that my ex-boss used to use regularly! 
As I wasn't in the mood for this delicate application process possibly going wrong (and I needed someone to blame if it did), the crucial task was delegated to my partner Linda - lucky girl.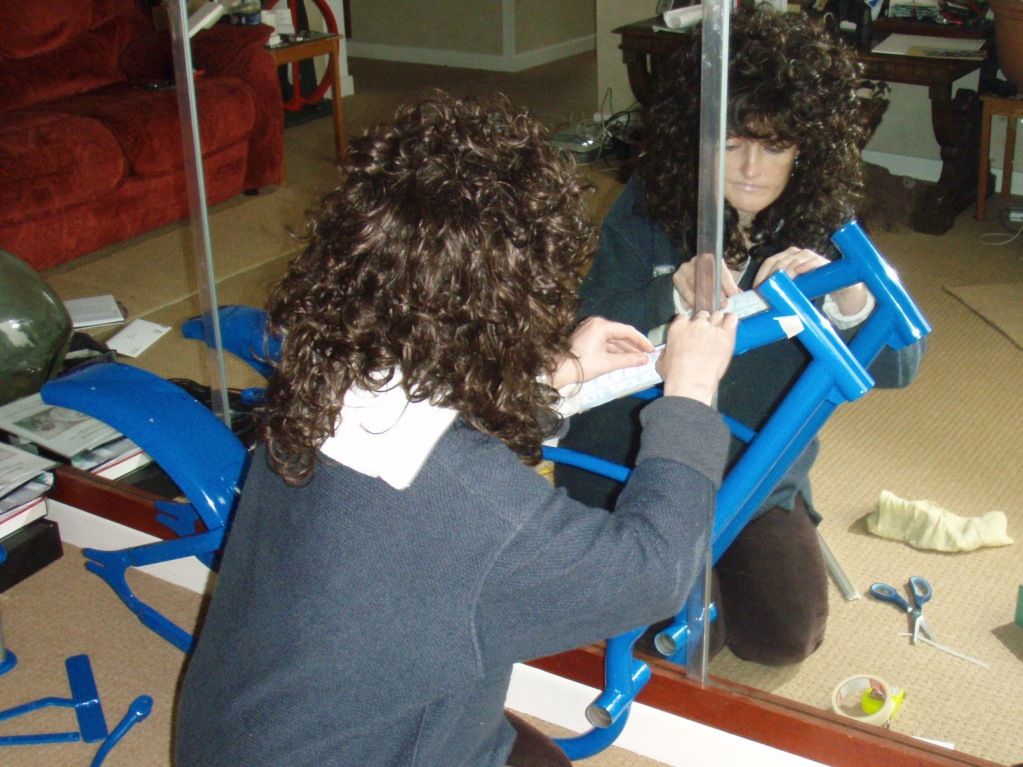 Thankfully for all concerned, she made her usual great job of sticking the decals on, with everything straight and in the right place. Big relief all round for everyone at this point.
The next scary step was to fit the new head bearings. Rather than transport the frame to the local bike shop and 'get it done properly', I opted for the 'how hard can it be?' approach, and had a go myself, although I used some threaded rod to wind the races in, rather than simply using a mallet.
I had already taken the precaution of checking both the internal and external measurements of all the components with a digital micrometer, but knew from experience that this would not prevent a potential disaster at this critical stage.
The head tube had been part of the original Stingray frame, but had been subjected to some pretty severe trauma since then, so it was easily capable of not complying now. However, once again, all was fine and the races settled into their new homes OK.
Linda had also remounted the original Stingray badge to the headstock, and I thought it helped to make the bike look less 'home made'.
The inner race went onto the bottom yoke easily enough, and together with the top yoke, the mega-long fork stanchions both fitted OK, if a little loose at this point, and their diverging angles (due to the wider front hub) seemed less noticeable than before.
The front spindle was also considerably too long, but luckily I resisted the urge to simply saw the excess off, as I later found some stainless 3/8in BSCy 26tpi 'acorn' nuts on Ebay that covered up the threads and finished off the wheel a treat. Altogether, another big relief, and a good point to stop for the day.
Next day, after some time for reflection, I decided to drop the fork legs out again and clean off the grease that had previously seemed like a good idea to prevent rusting of the un-powder-coated yokes. (These had been masked off to ensure that the legs would still fit through the holes, as the coating always adds a considerable thickness to the metal - ask me how I know!) But grease? No wonder the legs would not tighten down securely.
With that removed, and some anaerobic sealant added for good measure, the second assembly went much better. After all, with forks this length, one really doesn't want them flopping about where they need to be solid.
Weeks previously, I had already established which handlebars I was now using, and had mounted all the components to them, including the wiring. This was a great idea, as I wasn't so rushed then, and I had made a far better job of things than if I was doing it for the first time during the actual build-up. Just a few bolts, and suddenly all that high-profile assembly was in place.
I had been worried about feeding the wiring loom through the frame (as the main control plug for the electronics was quite large) but after first feeding a thin guide wire through the frame, I was able to pull the wires through without a problem. I was still awaiting the rear brake cable at this point, so I pulled though another string that I could then use to get the cable through, when it eventually arrived.
The seat went on easily as this had all been worked out prior to the powder-coating. However, my clamping arrangement was not good enough to hold the stem securely, but, once again, the anaerobic sealant soon solved that problem.
Similarly, the crank and pedals went on OK, any 'issues' having been previously sorted out. I had also bought two 'chrome-finish' 3/32in chains that I joined to stretch all the way to the rear sprocket, but when I assembled everything - disaster!
Despite my previous trials and further cutting back prior to powder-coating, the new chain still rubbed against the rear mudguard! It was too late to cut any more out of the guard now, and I kicked myself for not allowing more clearance earlier.
However, after I had cut the chain to the right length, allowed it to choose which sprocket on the rear cluster it was happiest running on, and then adjusted the rear wheel for tension, everything miraculously sorted itself out and the chain ran comfortably clear of the guard, just as I had originally intended. Phew!
This now seemed like a good time to temporarily connect up all the various wires to the battery, and check that everything still worked OK.
Despite my initial confidence, all was completely dead. How could this be? I was just about to start ripping all my beautiful spiral-wrapped loom apart when I realised that one of the brake levers (that had yet to have cables fitted) had stuck slightly open, as if the brake was applied, hence killing power to the motor!
Once this was reset, the problem disappeared and the motor worked perfectly, both on the non-standard thumb-throttle that I had wired in myself, and using the modified pedelec sensor on the front sprocket. Success! Another good time to quit while I was ahead, I thought....
I had managed to find some 'chrome-effect' outer brake cables on Ebay that I was able to buy by the metre, and conveniently, three metres was JUST enough to do both brakes. Everything connected up fine and the two discs appeared to work very well. Once again, all that work months ago, patiently fabricating brackets for the rear brake, had paid off and the whole assembly now went together relatively easily.
As I was used to having a speedo and odometer on my traditional Wisper electric bike, I wanted one on the chop too, but with such an outlandish front end, wireless speedo sensors were 'out of range', and I didn't want a long cable showing on the fork legs. This only left the rear wheel as a signal source, so before powder-coating, I had welded a bracket onto the frame in about the right place, and extended a wire through the loom to the speedo sensor. Some careful fabrication of an aluminium adaptor soon had everything in place, but the readings still seemed a bit erratic.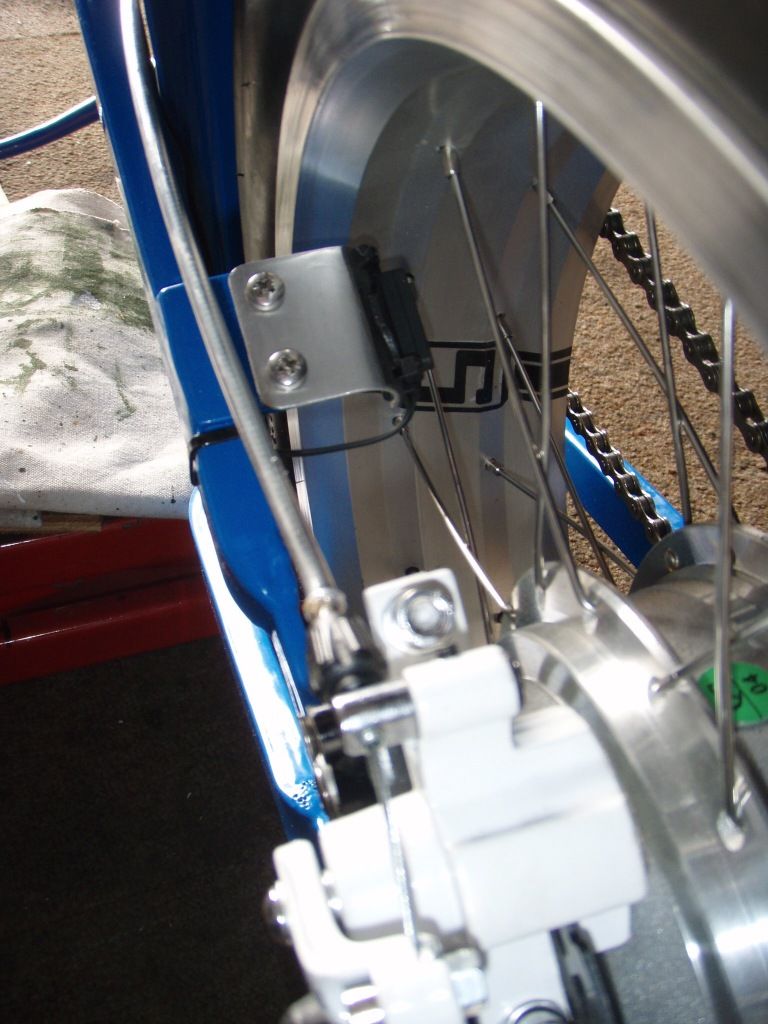 Thinking about it afterwards, I realised that the magnetic sensor was only inches away from the 350w motor that no doubt generated quite a significant magnetic field of its own! It could be that all would be fine if I was simply pedaling the bike - time would tell.
If all else failed (as I couldn't see how to modify it further) I could even do without the speedo altogether. (Or I could use a 'stand-alone' GPS speedo that I had just bought for my car; rather 'overkill' for a pushbike perhaps, but certainly very accurate!)
With everything now in place on the rear wheel, it was time to mount the electrics into the very nice 'Dutch panniers' that I had bolted though the rear mudguard, and spaced out with the 'T-shaped' brackets I had previously fabricated. Luckily, everything fitted perfectly into one pannier, so I simply cut out a backing board from MDF, both to keep the battery upright and to give me something to cable-tie the electronics to.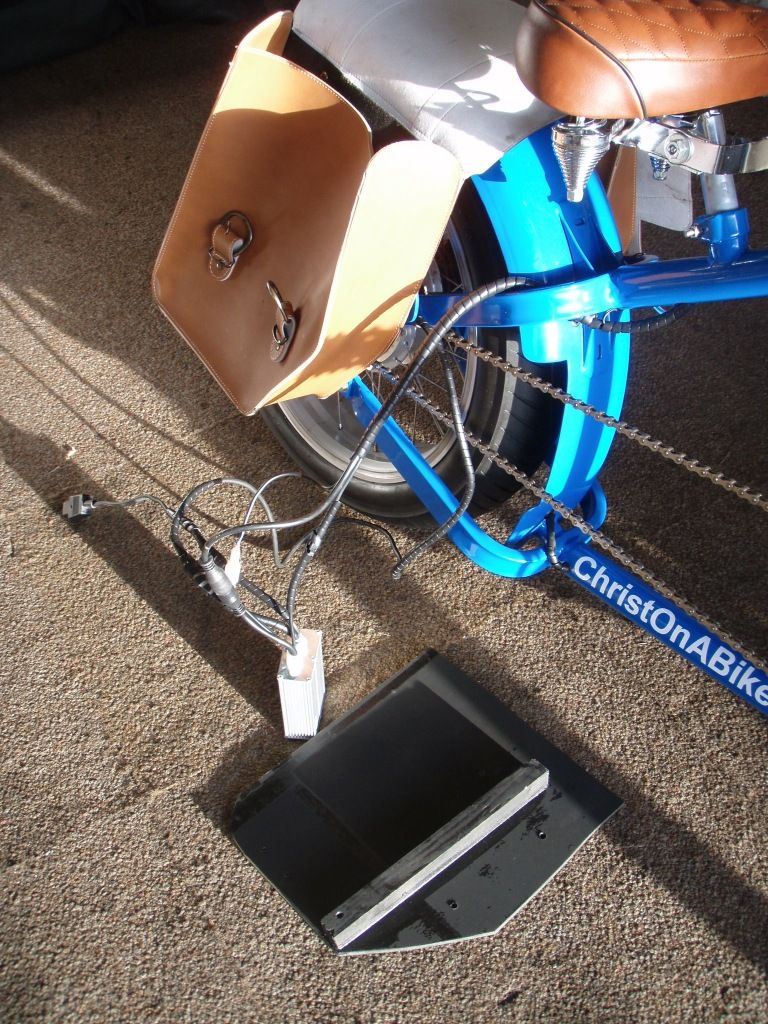 So, that was it; almost finished now! I tried a 'power-driven' length of my garage and everything seemed fine, although I expected a bit of 'tweaking' would be necessary, sooner or later.
There was time to reflect now that it was about a year since I first thought of building the bike, and about 7-8 months since the initial bits arrived, but the build had been very sporadic - intense at times, then weeks of inactivity.
Would the finished bike be worth all the time and effort (and expense)? We would see very soon......
My Nissan MPV had been off the road until now to save road tax, but as of April 1st 2012, it was legal again. As long as the chop fitted inside the back, I could take the bike to the nice flat quiet industrial estate to give it a first proper ride.
Well, that long-awaited test day finally arrived! There was a last minute worry actually getting the bike into the Nissan - luckily it did fit, but with only inches to spare.
Optimistically, I decided to set off to a couple of picturesque locations to both try the bike out and take some decent photos of it, but as it was a sunny Easter Good Friday Bank Holiday, everywhere was predictably packed out with people.
Falling back on 'Plan B', I returned to the industrial estate where I had first ridden the original unmolested 'Stingray', almost a year previously, and once again, the site was virtually deserted. By chance, it was also home to one of the companies (Tubeform Technology) that had supplied the steel tubes for the new frame, so it was an ideal opportunity to photograph the finished bike outside their unit.
At last, it was time to actually ride the bike for the first time! I turned on the power, selected the pedelec option and started to pedal. Almost immediately, the motor activated and the bike surged forward enthusiastically, every bit as powerful as I had hoped for. The riding position was perfect too, having been built to suit my dimensions, and the sprung seat was also extremely comfortable.
Perhaps the most surprising thing was how well the bike handled, as with such a radical build, based purely on the vision in my head, this had always been in some doubt. But no, it was as easy to ride as any bike, maybe even easier with it's semi-recumbent stance, and allowing for the larger turning circle, even relatively tight turns were no problem.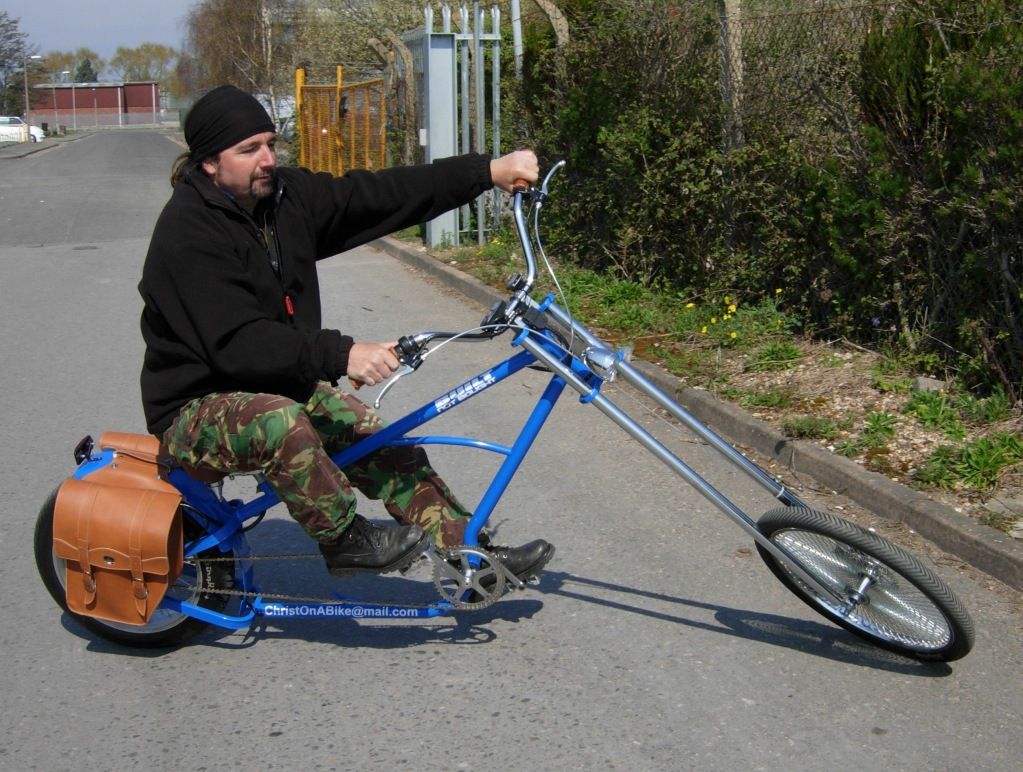 Obviously if something looks right, it really IS right!
Another bonus was that the speedo now worked fine, despite my earlier misgivings about the magnetic field from the motor. The calibration was obviously right too, since the readings matched those from my portable GPS speedo, and I was pleased to obtain speeds of 15mph without too much effort on my part. (This went up to 20mph, after I realised I previously had the controller set to 'medium' power, rather than 'high'. ) This was the maximum speed that I had originally estimated I could possibly obtain, using this gearing, wheel diameter etc, so everything had worked out surprisingly well.
Many more test-runs later, the bike was still working perfectly, with none of the adjustments or repairs I had anticipated proving necessary. The battery was still fine, so it would obviously take some much longer trips to find out just how far the bike would run on one charge.
What a result - so much better than I had dared hope for!
Not something that happens very often, and it was certainly a very 'Good Friday' for me to remember for a long time!

Epilogue
I hope you enjoyed reading the trials and tribulations involved in my epic build! I must admit, there were times during those 'dark hours' mid-build when I began to wonder if it would ever get finished, and I'd just be left looking at a very expensive pile of useless bits! Luckily that didn't happen, and the end product has far exceeded my expectations in every way.
Now I just look forward to getting some more trips done on it, and of course, answering a million questions from curious onlookers, such as 'where could they buy one like it?'
It'll be so great to say 'ah, you can't....'!
If you have any thoughts about the bike, or its build, then I would welcome your emails.
Please send them to: ChristOnABike@Mail.Com

Many thanks,
Nigel Bryant
(Poole, Dorset UK) April 2012
UPDATE: July 2012
I've just taken delivery of a $600 20aH lithium iron phosphate battery from reputable Chinese supplier Mr Ping, along with a 28A controller, so this should give me much more range....and more speed, for all those 'on private land' sessions too! :-)
PS: Massive thanks also go to my friend Tom Cousins for his invaluable help, putting all of these pages online!